Ride to your best ability.
Motorcycle Rider Training – How we help you to RIDE to STAY ALIVE
Bike School Southern Africa (blue gravity) specializes in motorcycle training through our specially developed courses incorporating advanced motorcycling skills and systems designed to develop your riding abilities and focus your vision.
Our moto and focus is RIDE to STAY ALIVE – safety is key and enjoying yourself as a reason for actually living is also paramount.
We specialize in one on one training to give clients focused attention. We provide group regular courses either on set dates ( weekends – Friday afternoon to Monday) or can also set courses or training arranged on client agreed dates.
For pricing and booking contact us (click the link)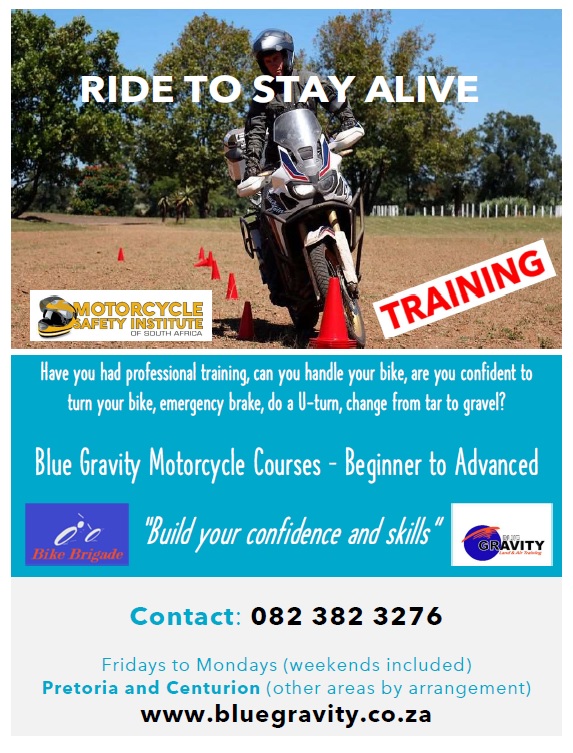 During this Global pandemic, for information on COVID and on our South African response and status please visit. WWW.SACORONAVIRUS.CO.ZA
Beginner Rider Training
From an absolute novice whom has never climbed upon a motorcycle we take you via our building block approach to being a competed entry level rider.
WE provide road and "dirt rider training)
We cover preparation, checks, bike and body position and control, clutch control and friction zone, braking, turning, weaving, cornering, assents and descents. At our training facility.
The next phase is road craft etc.
IF for dirt training, no license is required, if road training is required then at least a learners license is required
The client provides their own bike suitably insured and licensed if for the road training. Any damages that may occur in the eventuality one drops a bike or crashes it are for the clients account.
Urban Riding training
This course develops the critical skills and understanding needed to stay safe, create an envelope of safety and to ride with confidence in traffic and at slow speed is critical in our Ride to Stay Alive Training programs.
Our road craft course is a must have if you ride on the road it is conducted separately from the URC and is conducted on road with out rides and similar. This is for people that can already ride with a learners license as a minimum.
Minimum skill level we accept is that the rider can pull off from a stationary position, balance and ride to a directed position, turn the bike left and right, brake the bike and understand the basics of controlling a motorcycle..
We do not provide a motorcycle – the client must bring their own with third party insurance or licensed.
Adventure Riding Skills
Whether you ride gravel on the weekend or wish to take you bike on single track – this is where the vital skills for safe and effective adventure riding are developed.
We have two tiers
Entry level (Gravel & the basics) and then advanced.
At present we are focused on the Gravel and basics as this is where we have had significant demand.